Norway's Barnevakten (Kids and Media) organisation has acquired a global reach with backing from the Kavli Trust. It is now a big operation with various web-based activities in the USA, the UK, Australia and Denmark as well as at home.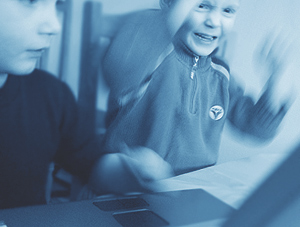 Barnevakten has devoted 11 years to supporting parents in giving guidance to their children on making positive use of digital channels.
The organisation's work has rested from the start on the UN Convention on the Rights of the Child, which states that children have the right to access media – and to be protected from potentially harmful material.
Barnevakten received help from the Kavli Trust in 2010 to establish the English-language kidsandmedia.co.uk website. This advises parents on children's use of the internet, mobile phones, games, film and new media.
Visitors to the British site have come from 140 nations so far in 2011, and the www.kidsandmedia.net parent's forum was nominated this summer for an award from the UK's prestigious Nominet Trust.
The Kavli Trust is now supporting the build-up of Kids and Media Denmark, an organisation run on the same model as the Norwegian one.
It will help parents to participate actively in their children's daily media experience by providing judicious information, good advice and useful tools.
The Kidsandmedia.dk site is also aimed at teachers and other professionals working with children and young people.
"Backing from the Kavli Trust has been crucial in getting the funds to extend our work beyond Norway," says Øystein Samnøen, general manager of Kidsandmedia.
"Barnevakten has become a Norwegian organisational innovation which attracts international attention, and the door to the wider world has been opened by the Kavli Trust."
The organisation is involved in three European Union projects related to digital bullying, and gets invited to provide speakers and written input for a number of international forums.