The first 18 preschool teachers in Malawi graduated in March 2012. They are now working full time in one of Malawi's seven nurseries. Norwegian preschool enthusiast Marit Svahn has in collaboration with the Kavli Trust established a school for preschool teachers and seven nurseries in Malawi.

Svahn is highly qualified in the field of pedagogy and has chosen to use her expertise to make life better for children in one of the poorest countries in the world. She is educated both as a preschool teacher and teacher, in addition she hold extensive work experience from various educational levels: nursery, elementary school, high school, collage and child protective services.
Massive need for nurseries and preschool teachers in Malawi
The need for nurseries and preschool teachers is very urgent in Malawi. Approximately half of Malawi's 15 million citizens are below the age of fifteen and 1,3 million children are orphans. In order to establish the school for preschool teachers in Malawi, Svahn has received professional assistance from Norwegian pedagogy professors Arve Gunnestad and Jorunn Sæthre. Svahn's efforts have benefited both several children and the students at her school. "Our preschool graduates are able to start a whole new life where they can work full time and receive regular income. So far we have been able to offer our graduates a position in one of our nurseries, but as more students graduate we expect they will also be hired in elementary schools", says Svahn.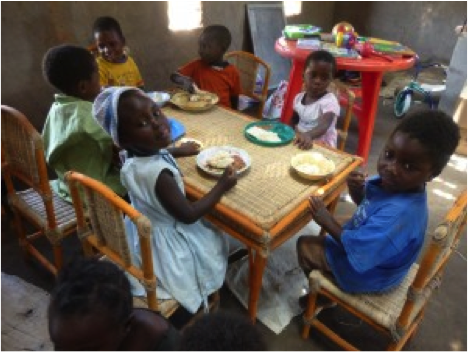 The children enjoys a hot meal in a Kavli nursery
She has opened seven nurseries in different villages during 2012. The Kavli funded nurseries provide 420 children in the age span 3-6 years a daily access to food, play time and educational exercises. This gives them a solid foundation for further education. The financial support from the Kavli Trust is used to cover the expenses such as salary to the employees and food to the children. They are familiar with several of Kavli's food products and all nurseries have names that include "Kavli". The nurseries are integrated in the education by providing internships to the students.
– It is difficult to express the change we have witnessed in the villages where the nurseries have been established. The Kavli Trust receives a high admiration in the local villages for their support to this cause, says Svahn.