The causes of this condition, which leaves thousands of victims helpless and bedridden for years, remain a mystery. Many different views have been expressed on the subject. In recent years, the trust has supported research by cancer doctors Olav Mella and Øystein Fluge at Bergen's Haukeland University Hospital.
Their work has focused on using the rituximab cancer therapy and the cyclophosphamide chemotherapy drug to treat patients with ME. This is based on a hypothesis that the condition is a type of autoimmune disease – in other words, one where the body's own defences turn on itself.
In connection with the International Awareness Day for ME on 12 May, the trust's board decided to extend and increase its backing for the potentially groundbreaking research. Almost NOK 5 million is accordingly being donated to scientists at Haukeland as well as at the Oslo University Hospital and the Universities of Oslo and Bergen.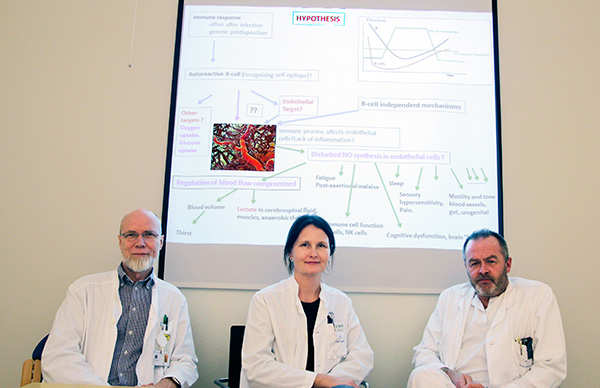 Mella, Fluge and project coordinator Kari Sørland will continue their clinical trials and laboratory work in a bid to identify the disease mechanisms involved. Professor Karl Johan Tronstad at the University of Bergen is receiving funds to investigate how metabolic changes contribute to ME. And professors Torstein Egeland, Benedicte A Lie and Ola D Saugstad plus postdoctoral fellow Marte K Viken at the Oslo University Hospital will chart the immune system in ME patients.
These various research teams will collaborate, with blood samples from patients participating in the studies playing an important role. "As a private, independent and non-specialist player, we can back groundbreaking but still unproven science," observes Inger Elise Iversen, general manager of the Kavli Trust. "This is frequently the sort of area where the public sector is not yet ready or able to make a commitment."
ME is not the first controversial disease. Multiple sclerosis (MS) was known as the "faker's disease" until multiple resonance imaging (MRI) found plaques in the brain. And ulcers were attributed to stress until a bacterium was found in the stomach. "What surprised us when we became aware of ME is how similar patients are in their clinical presentation," explains Mella, who heads the cancer department at Haukeland.
"This has led us to believe that a common disease mechanism is involved, and that forms the driving force behind our project."
Facts: ME
Myalgic encephalomyelitis (ME), more commonly known as chronic fatigue syndrome (CFS), affects 0.1-0.2 per cent of the Norwegian population. Little is known about the biology of the disease, research has been very limited and the pharmaceutical industry continues to display no interest. The view that ME is a psychosomatic condition has prevailed for decades.
Facts: the Kavli Trust
All profits from Norwegian food group Kavli Holding not devoted to developing the company are distributed to research, cultural activities and humanitarian projects. The trust made donations totalling NOK 43.6 million in 2014, and ranks as the only food company in Norway which gives away its profits to good causes.