This spring, with support from Kavli Trust, The Human Aspect made ten films about mental health specifically targeting young people.
The Human Aspect is known for its intimate and in depth interview based films, which are collected on their website and make up the world's first "Life Experience Library". The vision of the project is to contribute to the improvement of mental health by making sure that no one is left to feel alone during a life challenge.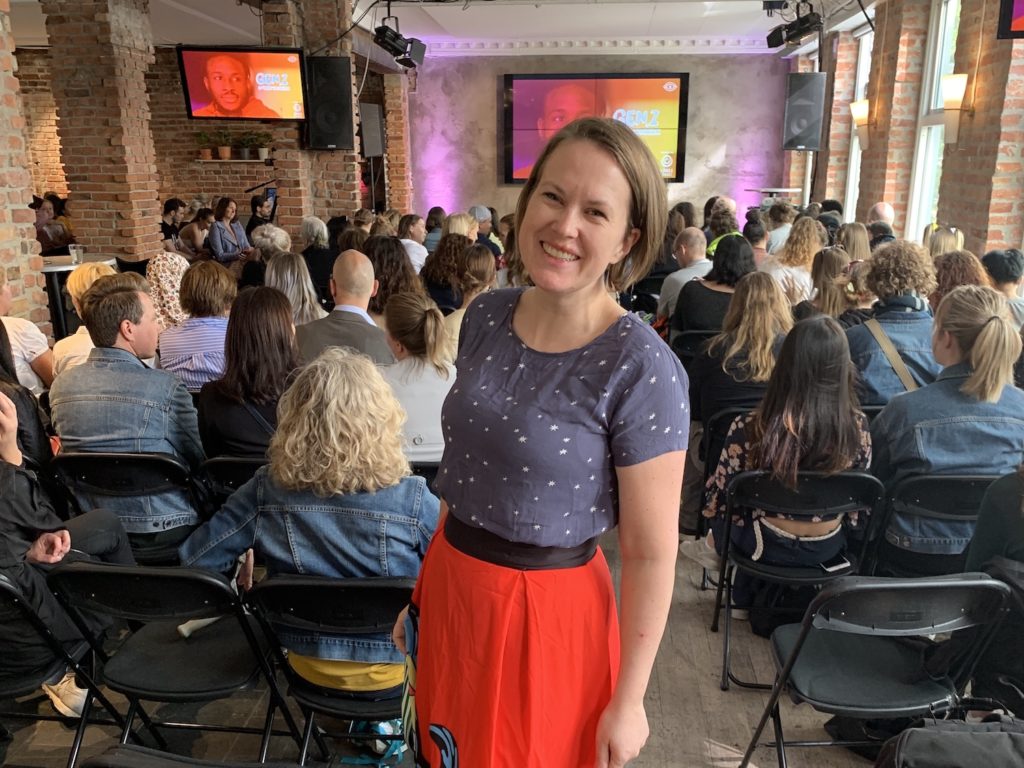 Catrin Alhaug has worked for The Human Aspect since 2017 next to a full time job in HR. Here she is on the launch of Generation Z-series at Mesh in June. Photo: Hanne Eide Andersen/Kavli Trust
Ten young, brave and insightful people share their experiences in the videos which are supported by Kavli Trust. One of them is Marcus. As in all the interviews in the Life Experience Library, he leads viewers on a journey through his life by answering the following essential questions:
• What has been your life's greatest challenge?
• How did you get through it?
• What did you learn?
Bullying, drugs and debt
Marcus tells the story of his youth and how it was marked by a painful and unstable family situation, low self esteem and bullying leading to drug abuse and debt problems.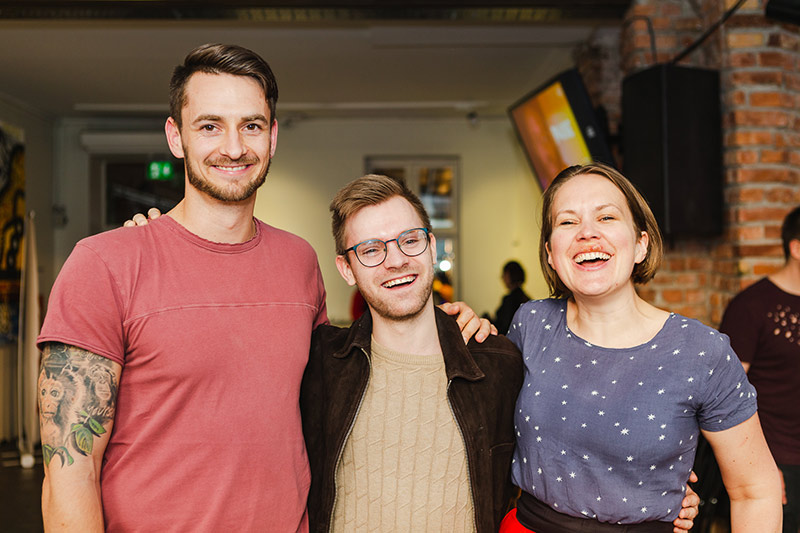 Jimmy Westerheim, Marcus André Bekkelund and Catrin Alhaug. Photo: Matias Hagen
Marcus was present at the launch of the film series. There was not a sound among the audience during the 40 minutes his film was shown.
"It made an impression. Marcus and the others who are interviewed tell their story openly and intimately, talking about pain and lessons learned. They give advice in a good and insightful way. It is impressive," says Guro Sundsby, senior advisor in Kavli Trust and present at the launch.
"The interview with Marcus is a prime example of how well it works to give insight into what it is like to be in a challenging situation whilst focusing on the way out and giving good advice to others who find themselves in similar situations" Sundby continues.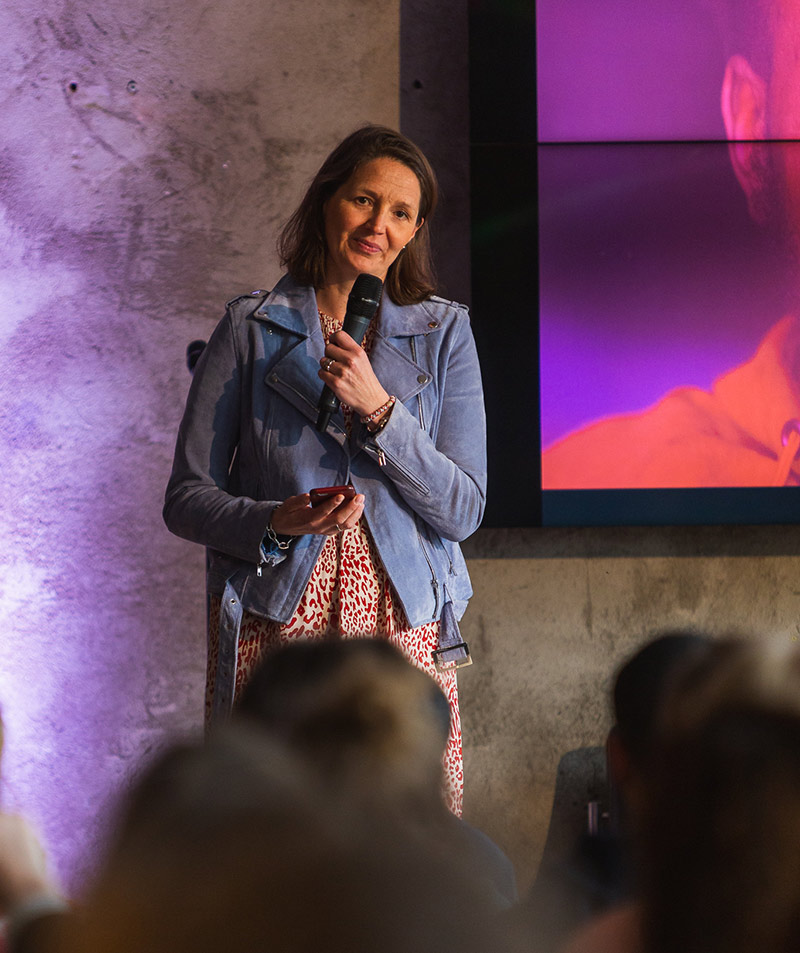 Guro Sundsby from Kavli Trust congratulated everybody involved and talked about Kavli Trust's commitment to improving mental health for children and young people. Photo: Matias Hagen
Domestic violence film seen by thousands
Some of the interviews have set record views. In one of them Kine Pedersen tells her story of how she was exposed to violence by a previous partner and hospitalised several times by the injuries he caused. She also talks about how she managed to escape the abuser, report him to the police, go through a trial and rebuild her self image.
"Kine's interview is already watched by over 2000 people in the library, while the teaser is spread in social media and seen by over 130.000 people. Kine has set a record with our most watched interview in Norwegian, and in the space of only three weeks," says Jimmy Westerheim and continues:
"Most importantly, three other people have made contact with Kine through the organisation We Believe You, where she works. They are now in contact with police and lawyers to get out of violent relationships."
"This is the reason why we continue our work. If we can help one person out there, it is all worth it," Jimmy Westerheim says.
From crime to a career in music
Luke Peters from London is one of two videos in English, produced with the support of Kavli Trust.
"It's been seen by over 270.000 people on social media," Jimmy Westerheim says.
Luke shares his experiences from a chaotic childhood and early involvement with drugs and crime. However, he managed to create drastic changes in his life and start a career in music under the artist name Still Shadey.
"The other seven interviews are also doing very well. We have reached over three million people with the interviews on our website and on social media," a happy and proud Jimmy Westerheim continues.
"This is what we've worked for, for over three years without a holiday and almost without a wage. We have managed to help thousands of people out there to not feel alone with their challenges."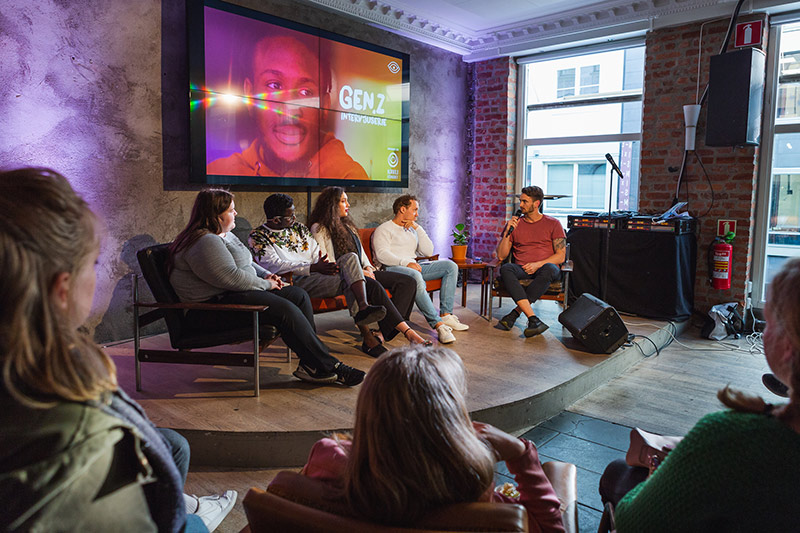 Two of Norway's most well known presenters Alexander Skadberg and Simen Almås, who have each shared their stories in the Life Experience Library, participated in a panel debate during the launch. Photo: Matias Hagen
Asking everyone to share
On The Human Aspect's website there are now a total of 170 videos of people from over 80 countries. All of them explain their path through the toughest challenges of their lives and what they learned from them.
"200 new films are in the making over the next few months", Westerheim says.
He asks everyone to share the films with others. The goal is to reach as many people as possible who suffer from one or several of the challenges highlighted in the films.
"Sharing an interview, engaging through social media and most of all using the library is what will fulfil our vision to make sure that no one out there is alone with a life challenge," Westerheim finishes.
Watch and share the films supported by Kavli Trust here

Mikkel felt lonely, bullied and misunderstood. He talks about the challenges he faced when he was younger, but also how he, through his passion for music, found a way out of deep depression and social anxiety.

Kine was in an extremely violent relationship. The abuse led to her being hospitalised several times and it crushed her self image. She explains how she managed to escape the torture and rebuild her life after the trial against her abuser.

Marcus grew up in a divided family and experienced bullying in school, which led to drugs, debt and foster family in his youth. Against all odds he managed to turn his life around, and become the one he is today.

I tenårene måtte Ina bryte opp fra sin vante, trygge tilværelse, og flytte tilbake til Asker hvor hun følte seg utenfor. Det var gjennom danse- og sangmiljøet i Oslo at hun fant igjen gleden og bygde seg et godt liv på nytt.

Luke had a chaotic upbringing in London and ended up in a community with a lot of drugs and crime. He managed to turn his life around and start a career in music.

Solveig was lonely and bullied at school, and later in life felt excluded at work. She explains how she found her way out of depression to the smiling girl she is today.

Kristina's mother got cancer and eventually passed away. Kristina talks about how she managed the time of her mother's illness and the grief that followed.

Yones experienced strong peer pressure to drink and party when he was younger. After a while he managed to stand up for his own values whilst still being "part of the gang".

Alexander had a hard time growing up and was abused by someone he trusted. He managed to work through his experiences and rebuild his self identity. He now earns his living from giving talks to young people.