This boy from Molde on the west Norwegian coast was ambitious. While few people at the time spent long at school, Olav acquired an education and had established his own company at the age of just 21.
Olav was determined. After much trial and error, he was able to present the world's first spreadable cheese which was also durable in 1924. Named Primula, this product marked his breakthrough. The company did well and expanded steadily. After 16 years, it had operations in Norway, Sweden, Denmark and the UK.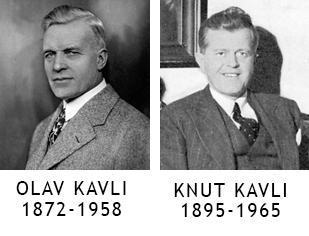 Olav died in 1958 and was succeeded by his son, Knut. In line with his father's wishes, the latter created the Kavli Trust (O Kavli and Knut Kavli's Charitable Trust) in 1962. We own the Kavli group, a Norwegian food manufacturer with production in four countries. Spreadable cheese, milk, sour cream, Skyr, yoghurt, patés, sauces and dressings represent the bulk of its output.
We have been donating money to socially beneficial causes for more than 50 years, and are still going strong. Our ambition is to create spin-offs for society at large in Olav and Knut Kavli's spirit.