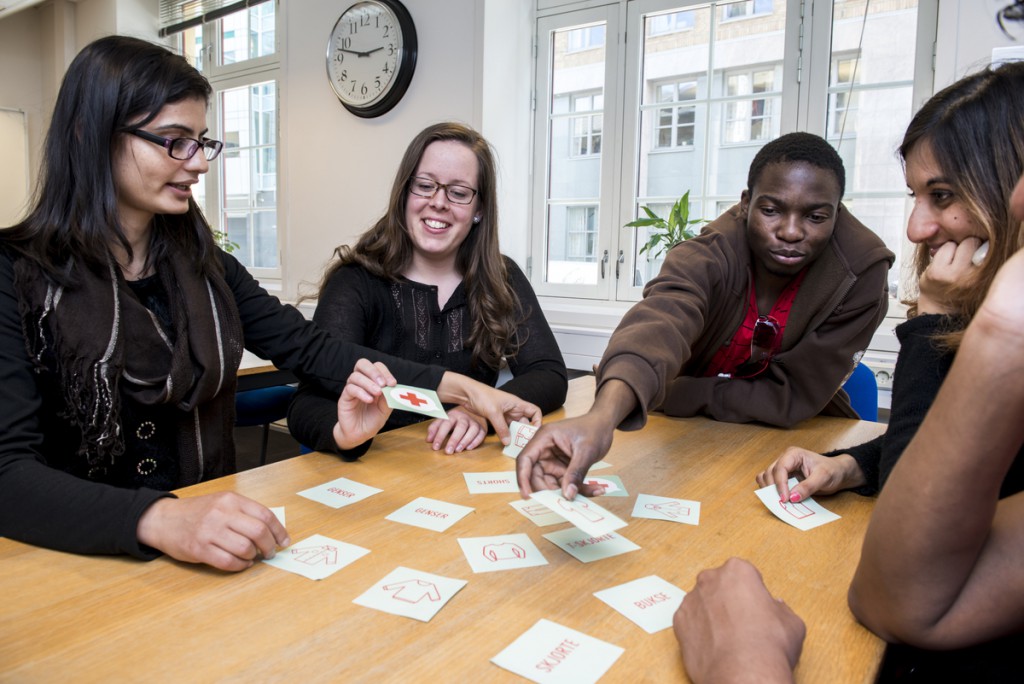 This project is an extension and expansion of ongoing language and educational programmes run by the Red Cross. Launched in 2014, it marks the first joint scheme of its kind covering the four countries where the Kavli group has a corporate presence.
"I learn things here that I don't pick up elsewhere," says a young Somali women taking one of the courses. "I don't only acquire formal words, but also colloquial ways of speaking."
The Red Cross has found that training in Norwegian is one of the most important forms of assistance it can offer immigrants. A secure arena is created where they can improve proficiency.

Norway
More than 350 immigrants and refugees attend the Norwegian training courses run by the Red Cross in Oslo and Bergen, with 150 volunteers contributing to these activities.
Priority is given to particularly exposed and vulnerable refugee groups with residence permits. Poor EU citizens who cannot afford conventional language courses are also a growing clientele.
Denmark
Language training courses by the Danish Red Cross are offered to newly arrived refugees, and involve reading newspapers, conversation, visiting museums and so forth. And reading help is provided for all school-age children.
Project funds in Denmark are also devoted to developing course materials for use by the volunteers who provide language training and reading help.
Particular emphasis is placed in this context on the way the volunteer can work with refugees suffering from traumatic experiences.
Sweden
Unaccompanied minors seeking refuge are helped in Sweden to acquire a place in society by introducing them to pals groups, and by providing high-quality reading help as well as rehabilitation from the trauma of migration, war and torture.
Many of these youngsters feel socially insecure, and many suffer from depression and stress. Help from the Kavli Trust means that even more of them can now receive quality-assured language training and reading help.
UK
Sixty young refugees in Glasgow are participating in a course on English for speakers of other languages (Esol) and a life skills programme.
These schemes will help them to adapt to their new environment by learning English and acquiring the knowledge needed to live independently, get an education, access health services and become integrated in the local life of the town.
More information from:
Norway: www.rodekors.no
Denmark: www.rodekors.dk
Sweden: www.redcross.se
UK: www.redcross.org.uk