Reach for Change is a global organisation founded in Sweden in 2010 to improve children's lives through social entrepreneurship. Reach for Change and its partners help over 100 social entrepreneurs scale their innovations through seed funding, access to business expertise and networking opportunities.
The organisation is present in 17 countries worldwide. The Ghanaian branch, which has partnered with the Kavli Trust, writes on their webpage: "We believe that local solutions from Ghanaians are the best way to effectively combat poverty and other socio-economic problems. Supporting social entrepreneurs in Ghana align with our mission to mobilise a global movement of smart, brave and passionate change agents, building a better world for children."
The four Ghanaian change agents will now embark on an incubator programme to develop their dreams into sustainable and scalable ventures to create better lives for children:
Serwah Quaynor: Autism Awareness Care and Training (AACT)

Serwah Quaynor is a trained nurse practitioner and has experience working as a women's health educator. Quaynor's 27-year-old son was diagnosed with autism when he was a child in the US. Upon her return to Ghana she realised there was no educational support for him. The lack of educational programmes for children with autism motivated her to start the Autism Awareness Care and Training (AACT).
AACT provides education for children and youth with autism, the only programme of its kind in Ghana. The centre's core operations are awareness creation, advocacy and training of parents and teachers to support children with autism.
Quaynor's goal is to train care-givers all over the country, ensuring all children with autism get care and education. She wants to scale up operations across the country and work with government to impact positive change for children with special needs, particularly autism, within health care delivery.
Thanks to Serwah Quaynor and AACT, children with autism in Ghana can have access to specialized education across the country through teachers and paraprofessionals who are equipped with the requisite skills to teach them.
Ishmael Hammond: Special Attention Project (SAP)

Ishmael Hammond has a life-long belief that all children can learn, irrespective of their physical, intellectual or behavioural challenges.  He is working to change the education system in Ghana to ensure that all school-age children are supported to learn.
Together with Margaretha Ubels, Ishamael founded the Special Attention Project (SAP), which works with children with learning disabilities and also out of school children, primarily street children, to help them learn to read.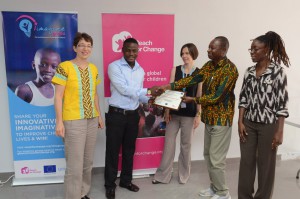 A core part of SAP is the use of an innovative teaching method. Hammond and Ubels developed this method, called FonixGH, which enables effective English language teaching using phonetics of the local language, Twi. The paper version has already been successfully piloted and they are getting ready to launch the mobile version. The app is multi-sensory and self-correcting, and can be used by schools, families and individuals.
With SAP, children with learning difficulties will have access to a learning platform in the local language Twi enabling them to read and become integrated into the mainstream education system.
Cecilia Fiaka: Nneka Youth Foundation

A successful branch manager with Standard Bank Group in Accra, Ghana, Cecilia Fiaka would often visit her home village of Ve Gbodome in the eastern region of the country that borders with Togo. She began noticing some startling trends on her return visits. Pregnancy rates were on the rise, affecting girls as young as 13 and 14 years old. More and more children were dropping out of school – close to 35 per cent in the Hohoe Municipal Education District – and Fiaka was personally witnessing young people turning to drugs.
Having had the opportunity to attend the University of Ghana and understanding the rewards of being an established professional, Cecilia couldn't bear to see the children in her community walking down paths that would only lead to dead ends. That's what spurred her to start Nneka Youth Foundation.
Cecilia Fiaka's mission is to reverse the increasing school drop out rates and improve the pass rate at the national examination level. She works to empower teenagers by building self-confidence through youth camps, where inspirational speakers from diverse backgrounds come to speak with children. In addition, Fiaka's programme also includes reading clubs, distribution of teaching learning materials and counselling.
Over the last two years, Nneka Youth Foundation has taken giant strides in changing the lives and mind-sets of over 3,000 children. The impact of her camps on children are outstanding and the positive results in school have been called out by District Education Offices regionally. Cecilia Fiaka wants to ensure a sustainable business model and work on a national scaling model in partnership with key stakeholders.
Agee-kum Anthony: Edutainment Canopy Initiative Ghana

On the eve of Agee-kum Anthony's national school examination, the kerosene lamp in his home ran out as he was preparing for his examination. That night changed the course of his life, as it inspired him to launch the Edutainment Canopy Initiative.
Anthony found out that 70% of children are unable to progress to senior high school mostly due to low performance at school. Around 85% of the parents of these children are either illiterate or semi-literate.
His innovative concept, Edutainment Homework Canopy provides a safe space for children to do their homework assisted by community volunteer teachers. This helps the children to develop good learning habits, making it easier to stay in school and realise their full potential.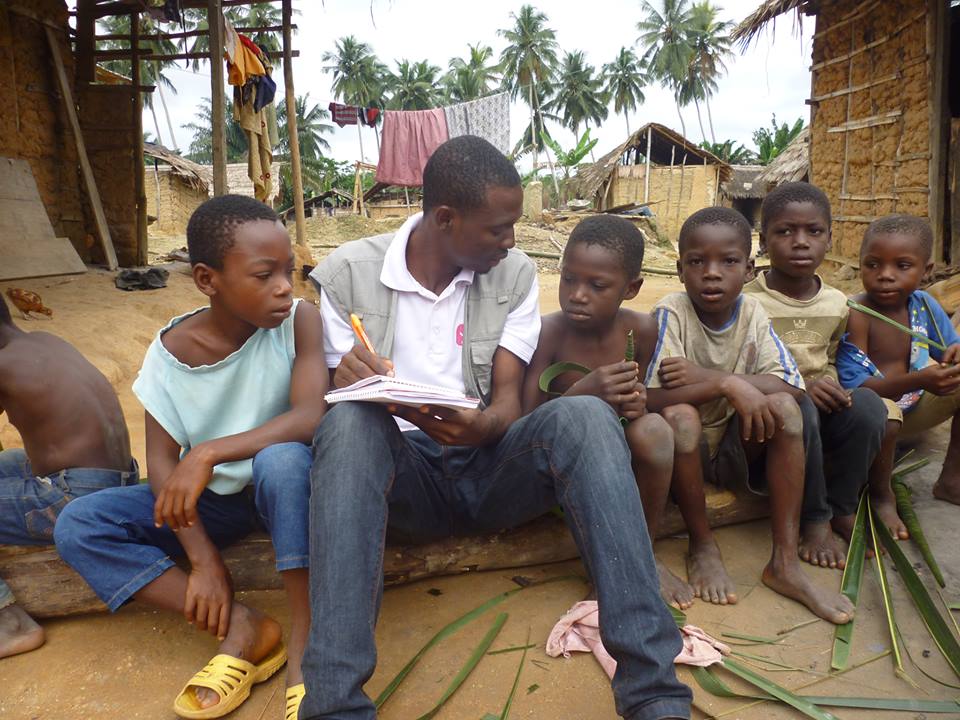 The Edutainment Canopy provides an effective and low cost solution to poor performance and school attendance of children in rural communities and, because it is community driven, has the potential to scale nationally and be self-sustainable. Anthony launched his first Edutainment Canopy in 2014 and has already scaled up to six communities in the Western Region.
Read more about Reach for Change Ghana.