Tekst: Hanne Eide Andersen/Little Big Help
Foto: Little Big Help
"Useless!" "That's what I'm constantly being called by my husband and in-laws, even though I do all the household work and contribute to our finances from the little salary I earn as a housemaid", shared Bina in tears.
"I'm going to prove them wrong. I know I am not useless, and once I complete the LittleBigHelp Beautician Course I will start earning more money than my husband!"
Investing in girls and women
Evidence from around the world shows that investing in girls and women creates a ripple effect that yields multiple benefits – not only for individual woman, but for families, communities, and countries.
Women will spend 90% of their income on their families compared to men who will spend only 30-40%.
"LittleBigHelp therefore has an increased focus on supporting women and over the next 2 years, we will be providing training within different trades to 170 marginalised women," says Rebekka Madsen, Programme Manager in LittleBigHelp, adding:
"All this is possible thanks to a new collaboration with The Kavli Trust."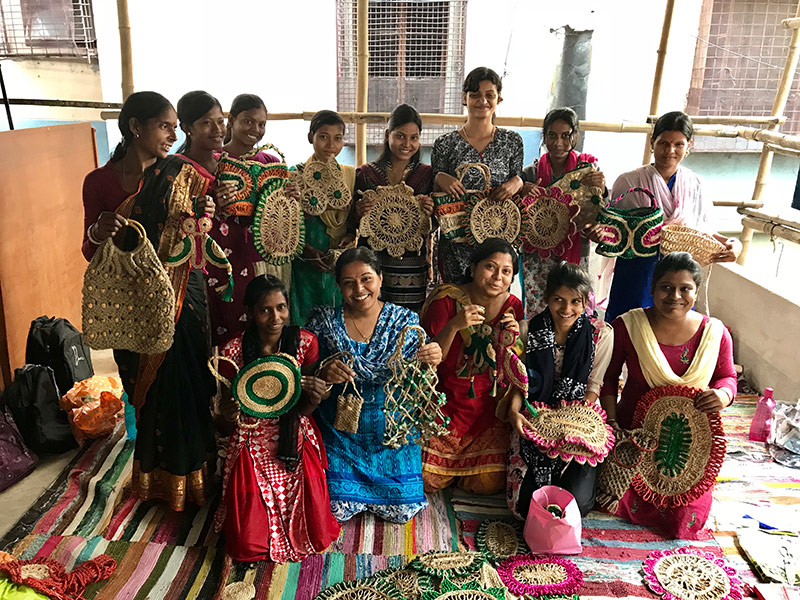 Men will also receive training
"That being said, the men cannot be left totally out of the equation. Both women and men play an important role in accelerating gender equality," adds Rebekka Madsen.
40 marginalised men will therefore also receive training over the next 2 years with the support of the Kavli Trust.
The projects are based in Kolkata and Bankura in the state of West Bengal, where a fifth of the population live under the poverty line.
The training period is short, maximum 12 months, enabling the trainees to earn an income within a considerably short period of time, thereby minimizing the investment for them and their families.
"We also provide training in trades that are high in demand to ensure the trainees access to work upon completion," says Rebekka Madsen.
The women are receiving training in tailoring, beautician skills, cooking or making of jute products, and the men will receive training in either repairing bicycles and motorbikes or household electrical wiring.
Bank account and business plan
"Economic and social empowerment is the main aim of the projects as extreme gender inequality still exists in India, especially amongst the marginalised living in poverty," Rebekka Madsen points out.
India is the 4th most dangerous country to be a woman in, with up to 50 million girls thought to be "missing" over the past century due to female infanticide and foeticide. An estimated 100 million people, mostly women and girls, are involved in trafficking in India in a single year. 44,5% of all girls in India are married before turning 18.
"Besides providing training in the specific skills we therefore also teach the trainees about their value, rights, entitlements, health, hygiene, financial literacy and business management. Many of the women who join our courses start believing, for the first time in their life, that they have value and that they are important."
By the end of the courses all trainees will have opened a bank account and made a business plan.
"For at least 12 months after the training we will continue to follow up with the trainees and give advice and encouragement."
Marginalized
All trainees are marginalized, with very limited education. Many were not working and those who were either had very irregular work or extremely low-income work, making the future very unsure for themselves and their families.
After completing the training everyone will be able to earn an income, which will only increase as they get more experience.
"I was supposed to join college last July and my brother was supposed to go for his +10 Board examination in February 2018. However, given our financial condition, it was impossible for my father to pay the expenses of both our educations and bring food on the table," shares Rishika from LittleBigHelp jute production training.
"Hence, I decided to drop my studies this year and join the training course on making jute products. On completion, I want to resume my studies and start earning money simultaneously. With the earnings, I will support my father as well as my own education cost."
15 new beauticians
In 2017, 15 extremely poor women completed LittleBigHelp's 1 year of Beautician Training also supported by the Kavli Trust.
"Within 2 months of completing the course, the women were able to raise their family income by almost 50 %. This means they can pay school fees for their younger siblings or save up to start their own beauty salon," says Rebekka Madsen.
"These ambitious women are breaking the social heritage not only for themselves but also for their families! With more than 210 marginalized men and women receiving training over the next 2 years, we are so excited about the many success stories we will be hearing and sharing," she says.
About the NGO LittleBigHelp:
– Established in Denmark in 2010
– Runs 17 projects in West Bengal, India, through which 600 children and adults receive direct support every day
– Focus areas: Child protection, Child education, Women's empowerment
Read more:
www.littlebighelp.com 
https://www.facebook.com/LittleBigHelp/