"We have started our training programme in Stockholm, and we will soon follow in other countries. The international demand is significant, says an enthusiastic Gerd Kvale.
Psychologists Gerd Kvale and Bjarne Hansen have developed The Bergen 4-Day Treatment (B4DT), a four-day treatment for severe anxiety or obsessive-compulsive disorder.
A disorder of the young
Some patients are not able to cross the doorstep without spending hours on prior rituals. Others have hand-washing compulsions. Some are afraid that they will kill others. Severe anxiety or panic attacks can justifiably be called a disorder of the young. More than half
of those affected during their lives develop the problems in their childhood or youth. As a result, such conditions are one of the commonest reasons why young people drop out of education or work, and end up on disability benefits.
Outstanding results
The effect of the treatment has been researched all the way. The unique, scientifically proven results of B4DT have attracted international attention: 90 percent of patients have a clear improvement after four days. Four years later, 70 percent are out of the disorder and live normal lives.
In 2018, Time Magazine listed Kvale and Hansen as two of the world's 50 most important people in health care. Since then, health authorities and institutions from all over the world
have requested to learn more about the treatment, known as B4DT. Certification will take place according to the same modules worldwide, so that all patients will receive the same
intervention, regardless of where they live.
Child and adolescent mental health
"When the treatment started to receive attention, Kavli Trust had recently chosen child and adolescent mental health as a main priority for our allocations. This is why we decided to
fund the training in B4DT of health care personnel throughout Norway. This is also why we are financing the extension of the treatment internationally with NOK 35 million, says General Manager of Kavli Trust, Inger Elise Iversen.
"We are pleased that the international expansion can continue. A treatment this effective should be available to as many people as possible," she stresses.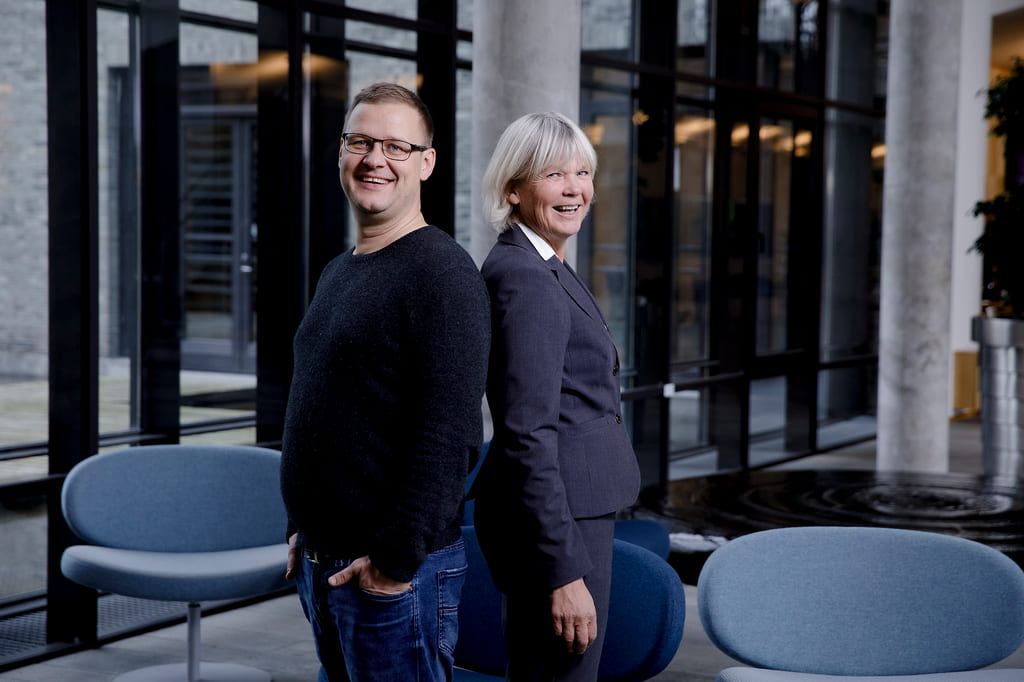 GREAT INTEREST:There is great interest in psychologist specialists Bjarne Hansen and Gerd Kvale's rapid treatment of people with anxiety and obsessive-compulsive disorders. Gerd Kvale is professor of clinical psychology at Haukeland University Hospital and director of the Bergen Center for Brain Plasticity at Haukeland University Hospital. Bjarne Hansen is head of the Clinic for 4-day treatment at Haukeland University Hospital and professor at the Centre for Crisis Psychology in Bergen. (Photo: Paul Sigve Amundsen)

Systematic studies
Support from Kavli Trust enables the researchers to implement both international training and systematic studies of the effect for patients abroad.
"We aim to train teams in parallel in Germany, Finland, USA, Iceland and Sweden," says Gerd Kvale. In this way, a knowledge base will be formed from various cultural contexts and competences enabling the intervention to eventually expand further on its own."
"These professional communities will gain experiences that will be crucial in deciding on the further expansion of B4DT," she adds.
Top academic institutions
The researchers started their international work in 2018, together with prominent academic institutions in the USA, Sweden and Iceland. In 2020, Singapore was added to the list. At the
largest hospital for mental disorders in Singapore, B4DT was to improve their treatment of patients with obsessive-compulsive disorder. Then came the pandemic.
The pandemic has prevented Kvale and Hansen from travelling and participating in training and treatment both in Singapore and other countries throughout most of 2020 and 2021. In the meantime, they have worked with B4DT in Norway, and planned further training, research and expansion.
"We are finally looking ahead," says Bjarne Hansen.
In the spring of 2022, he is working at full speed leading the training of the first team in Finland. Several countries are waiting in line.
"Our training will enable this first team to train new teams in Finland," he says.
"This will allow the intervention to expand faster. We work continuously to develop and improve both the content and how we organise the expansion, to maximise efficacy as well as quality at all levels," he concludes.
NOK 35 million to international expansion
For the period 2019 to 2023, Kavli Trust has allocated NOK 35 million to expand the 4-day treatment (B4DT) internationally.
The training will run over several years, and is led by Gerd Kvale and Bjarne Hansen from the Bergen Center for Brain Plasticity at Haukeland University Hospital.
The centre was established as a collaboration between Trond Mohns Bergen Research Foundation, the University of Bergen, Haukeland University Hospital and Kavli Trust.
While the Bergen Research Foundation finances the further development of B4DT, Kavli Trust finances the expansion of the intervention internationally.
Kavli Trust also financed the expansion of B4DT throughout Norway, as
part of its efforts towards child and adolescent mental health.
B4DT is the largest single research project Kavli Trust has ever supported.
Want to know more about the treatment? Visit Helse Bergen's website: https://helse-bergen.no/ocd-teamet-helse-bergen
Top image:
TRAINING IN FINLAND: Bjarne Hansen (left) and Psychologist Kristen Hagen from Bergen Center for Brain Plasticity together with the first Finnish team to receive training in B4DT. (Helsinki, March 2022)