This article was published in Kavli Trust Annual Report 2021. Photo on top: AKTIV Against Cancer physical activity centre for cancer patients at St. Olavs Hospital in Trondheim. Photo by Ole Martin Wold/Active Against Cancer
AKTIV Against Cancer has for a number of years been involved in a groundbreaking research collaboration with the Memorial Sloan Kettering Cancer Center (MSKCC) in New York. In 2016, Kavli Trust joined forces and initiated a five-year collaboration agreement with AKTIV Against Cancer.
Read more: New collaboration for research in exercise oncology
Kavli Trust has contributed to funding research at the MSKCC with a total of NOK 5.4 million in the period from 2016-2021.
"The research is led by Dr. Lee Jones. He is considered one of the world's leading experts in the field of research called exercise oncology, which looks at the effect of individually adapted physical activity before, during and after cancer treatment," says General Manager of AKTIV Against Cancer, Helle Aanesen.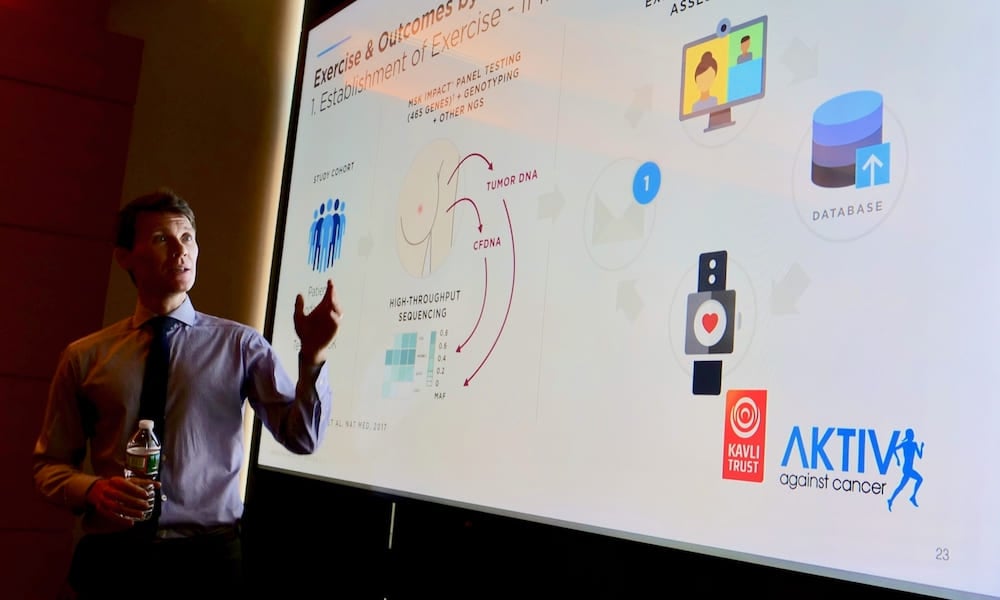 Better effect of treatment
This research provides important evidence supporting efforts to make individually adapted physical activity an integral part of cancer treatment, which is the overall goal of AKTIV Against Cancer.
An increasing number of studies show that exercise not only helps reduce the growth of cancerous tumours and make them more susceptible to chemotherapy, but also help reduce the symptoms and side effects of chemotherapy and radiation, as well as improve mental
health.
"This research is crucial for exercise to be a recognised part of cancer treatment," says Helle Aanesen.
Important for Breathing Rooms
One intervention of this kind is the socalled Pusterom ('Breathing Rooms'), physical activity centres at 16 cancer treatment hospitals throughout Norway. The Breathing Rooms provide a space where cancer patients exercise under the expert guidance of instructors trained in physical fitness and cancer.
The goal is to make this service available at all cancer hospitals in Norway as well as in other countries. "Research evidence is of course crucial when we are to convince politicians and authorities why we need the Breathing Rooms," says Aanesen.
In the spring of 2022, four new Breathing Rooms are underway. Breathing Rooms will be ready in Tromsø and at Lovisenberg Hospital in Oslo within the year.
In addition, there will be two smaller Breathing Rooms at the Coastal Hospital (Kysthospitalet) in Stavern and at Nordagutu. These will be full-fledged branches of the Breathing Rooms at the hospitals in Tønsberg and Skien, respectively," says Aanesen.
Norwegian visiting researchers
With the support from Kavli Trust, AKTIV Against Cancer is funding a research grant which has enabled three Norwegian cancer researchers to visit Dr. Lee Jones at MSKCC.
Read more: A semester with world class cancer researchers
Researching the effect of exercise therapy on cancer patients in NYC
Grants to visiting researchers on exercise in cancer treatment
"The Norwegian researchers have learned from the best, participated in several research projects and published articles in reputable journals. The visits in New York have ended, but the research collaboration continues. The researchers have gained important knowledge that they benefit from in their work with cancer patients here in Norway," says Aanesen.
Webinar with Dr. Jones
To mark the end of the collaboration, AKTIV Against Cancer and Kavli Trust organised a webinar in the autumn of 2021, where both Dr. Lee Jones and the three Norwegian researchers gave presentations.
"Together, they gave us an exciting insight into the international status in research on exercise and cancer, and what Norwegian researchers have learned from the high-quality level of American research in exercise oncology," says Inger Elise Iversen, General Manager of Kavli Trust.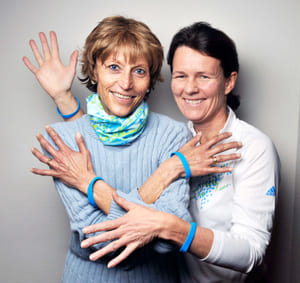 Praising Grete Waitz
"We have come to the end of the five-year collaboration agreement with
AKTIV Against Cancer. It has been an exciting and uplifting journey, with constantly positive news from Lee Jones and the other researchers at MSKCC," Iversen sums up.
"It is particularly rewarding that the research has derived knowledge that AKTIV Against Cancer has been able to use in establishing more Breathing Rooms at Norwegian hospitals, and in their advocacy of making physical activity an integral part of cancer treatment," she adds.
Inger Elise Iversen highlights Grete Waitz's commitment to the cause. The late Waitz was a co-founder of AKTIV Against Cancer, a Norwegian national icon and nine-time New York City
Marathon champion.
"Grete Waitz was a role model in so many ways. Her commitment to others, even after she became ill, made an impression and should inspire all of us. Together with Helle Aanesen and the researchers, she continues to play a key role in promoting research on exercise oncology. It benefits many patients. We are very happy that Kavli Trust has been able to contribute to this important, groundbreaking work that will mean so much to so many," says Iversen.
The full seminar is available at aktivmotkreft.no
All our articles about the collaboration with AKTIV against cancer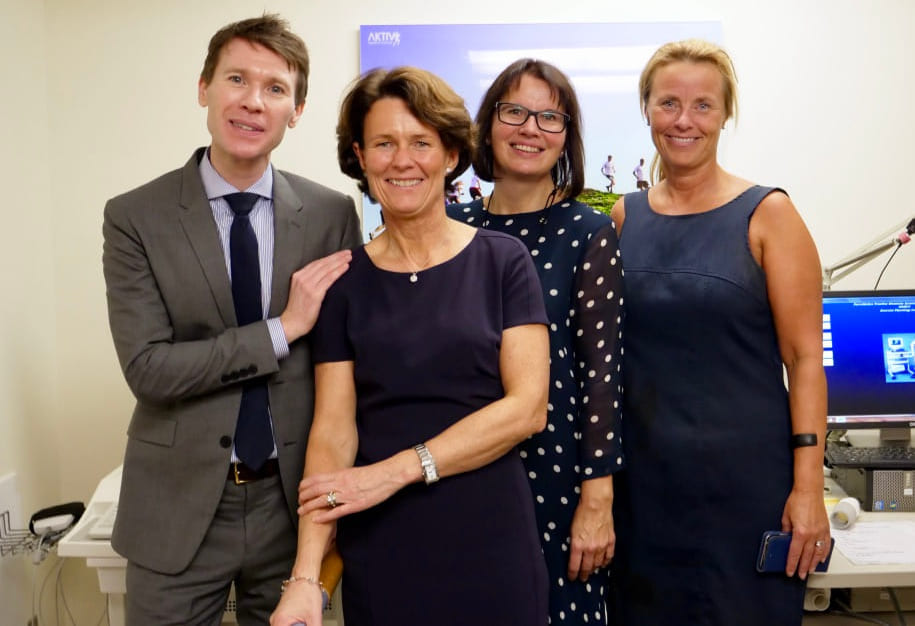 COLLABORATION: From left: Dr. Lee W. Jones, Helle Aanesen, Trustee of Kavli Trust, Solfrid Lind and General Manager of Kavli Trust, Inger Elise Iversen during Kavli Trust's project visit to NYC, December 2018. (Photo: Hanne Eide Andersen / Kavli Trust)