The best band in the southern part of Sierra Leone can be found at Kakua Music Academy in the provincial capital Bo. The Norwegian music teacher Catharina Drivdal is the driving force behind the music academy and its excellent Kakua school band.
Drivdal is educated both nurse and music teacher. She has previously worked as a nurse for Doctors Without Borders (Médecins Sans Frontières) in Sierra Leone. This experience awoke a passion to help the Sierra Leonean youth by giving them an opportunity to study and play music. As a result she used her own savings to establish the Kakua Music Academy in 2010. The academy has so far been very successful. It consists of 8 employees and admits approximately 30 students every year.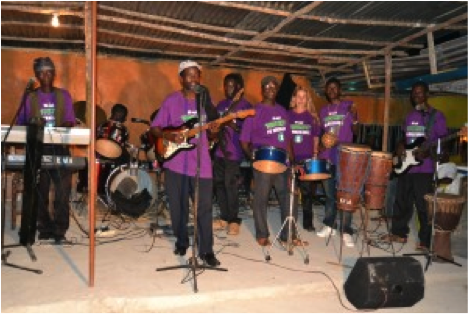 Best band in southern Sierra Leone
A large part of the Sierra Leonean youth enjoys music, but only a handful knows how to play an instrument. The music academy offers classes teaching the students to play different instruments such as keyboard, guitar, drums and bass. "The music academy aims to cherish traditional Sierra Leonean music and to give disadvantaged youth an opportunity to study music", explains Drivdal. Kakua Music Academy is an independent, charitable foundation approved by the Sierra Leonean government. One third of the academy's graduates are now working as musicians in local churches. The academy's school band is rumored to be the best band in the southern Sierra Leone and consists of both students and teachers. The band performs at different events and is an important attribute to the local music scene.
Encouraged by the collaboration with the Kavli Trust
– It is an enormous encouragement for us to collaborate with such a serious and well reputed organization as the Kavli Trust. Their financial support makes it possible for us to make necessary investments for the academy, such as new studio equipment and a transportation vehicle for the school band. It is also very important for us to receive recognition for the project. I believe education is the most important attribute we can give young people, and we are very pleased that the Kavli Trust supports this notion, says Drivdal.