The Kavli Trust's staff in the U.K has chosen four organisations that will receive in total £33, 650. The donations are given to organisations located in the North East of England.
The largest donation went to St. Cuthbert's Hospice in Durham City. They received £13 650, and this was used to buy a vehicle to transport passengers to and from the Meryoaks Facility.
Day patient Audrey Dowager said:
"I look forward to my visit to St Cuthbert's every Tuesday. Without the volunteers who bring me in and take me home, I'd be stuck in the house. The new car is fantastic and we all feel like we are travelling in style".
The Bubble Foundation is an organisation that works with babies born without an immune system. They received £10 000 to buy iPads, laptops and games for children in protective bubbles.
Fighting Against Cancers Together was given £5 000 to refurbish its Gateshead support centre.
Keyfund also received £5 000, to engage with young people across Gateshead and help them "unlock their own potential".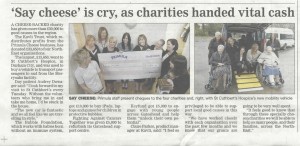 Claire Parker, product manager at Kavli, said:
"I feel so privileged to be able to support local good causes in this way. We have worked very closely with each organisation over the past few months and we know that our grants are going to be very well spent. It feels good to know that through these specially chosen charities we will be able to help so many people, and their families, across the North East."